THE BEST SPOTS FOR WEEKDAY BREAKFAST
Whether you're fueling up for a powder day, recovering from a night out, or looking for something you've never tried before, Ski City has the perfect breakfast spot for you. From the center of vibrant Sugar House to hidden industrial corners just off the interstate, you'll find everything from cozy '50s-style diners to modern experiences for food geeks. Whiskey-infused syrup over pork belly and waffles, vegan sausage breakfast burritos (that taste amazing), and homemade biscuits and gravy are just a few of the treats you'll encounter. It doesn't matter whether you're hungry for mountains of bacon or a light, energizing breakfast—your morning is about to get brighter. These are seven of the best breakfast spots in Ski City, so get to each as early as you can, or you might have to wait—they're often busy.
FINN'S CAFE
Monday – Sunday
7:30 a.m. – 2:30 p.m.
1624 South 1100 East
Friendly servers in white aprons swirl around Finn's Café serving breakfast until they close. Since 1952, Salt Lake City has trusted Finn Gurholt and his family-run affair to start the day off right. This small diner, broadcast with a retro neon sign, delivers a cozy, quiet atmosphere where you can enjoy Norwegian-inspired classics like the Scandinavian Breakfast, the Eggs Benedict, and the Norwegian Waffles.
If you can see through the haze of pancakes, fresh-baked pastries, and French toast with pure maple syrup, ask your server to describe some of their tantalizing daily specials.
CAFFÈ NICHE
Monday – Friday: 8:00 a.m. – 11:00 a.m.
Saturday – Sunday: 9:00 a.m. – 3:00 p.m.
300 South 779 East
Caffè Niche supports local farmers, ranchers, and food purveyors so thatyou get the freshest breakfast in the city. Their dedication to simpleyet timeless dishes and attention to every nuance of flavor beat out stiff competition to win Salt Lake Magazine's Best Breakfast in 2014. Fresh-squeezed orange juice, free-range eggs, and locally baked breads and pastries are just a few of the delights you'll find here. Their decadent Kobe Corned Beef Hash, which features house-braised, Kobe-style beef from Snake River Farms over hash browns, diced onions, free-range eggs, and a toasted baguette, is a local favorite. The Daily Vegetarian Quiche and Superfood Oatmeal offer delicious and satisfying non-meaty options.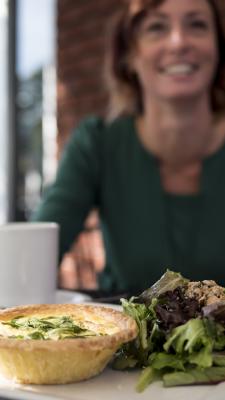 BLUE PLATE DINER
Monday – Sunday
7:00 a.m. – 9:00 p.m.
2041 South 2100 East
This '50s-style diner comes with a classic jukebox and walls filled with quirky antiques. They sling comfort food and veggie dishes to the hungry Sugar House crowd seven days a week. The Blue Plate Diner serves breakfast until 9:00 p.m., so if you feel like après pancakes, this is a great spot. When Blue Plate was featured on Food Network's "Diners, Drive-ins, and Dives", Guy Fieri's hair totally missed out on the homemade biscuits and gravy—don't make the same mistake. The omelets are another dish people rave about. The Vegan Breakfast Burrito with Tofu and the Tofu Scramble are great 100% plant options, and there are many other scrumptious veggie options as well.
EGGS IN THE CITY
Monday – Sunday
7:00 a.m. – 2:00 p.m.
1300 South 1675 East
You'd never know that the welcoming atmosphere of Eggs In The City was sculpted out of an old gas station. The eclectic interior is filled with local art, and you can sit in a comfy booth or at the counter in front of an open kitchen. Build the breakfast burrito you woke up craving or enjoy Eggs Benedict Florentine. If you're looking for something sweeter and lighter, the Crepes with Nutella and fresh fruit are divine. The last seating here happens at 1:15 p.m. sharp, and they serve breakfast as long as they're open. Whatever you do, call (801) 581-0809 about an hour before you plan on getting here to put yourself on the waitlist. There's almost always a wait.
THE PARK CAFE
Monday – Sunday
7:00 a.m. – 3:00 p.m.
1300 South 604 East
A morning at The Park Cafe is a great way to peek into local Salt Lake culture and to nurse a hangover with greasy goodness. Breakfast is served in a remodeled house by friendly staff in street clothes covered by red aprons. It's a chill atmosphere, but almost always packed and can get loud. The biscuits and gravy are a favorite (order two biscuits) and the Michigan Hash with Park Potatoes, sausage, onions, mushrooms, peppers, two eggs, and melted cheddar cheese brings you back to life quickly. They serve breakfast until 3:00 p.m. and are usually packed. If you see a spot at the counter, jump on it to cut down on your wait time.
RYE
Monday – Friday
8:00 a.m. – 2:00 p.m. 
Saturday: 9:00 a.m. – 2:00 p.m.
Sunday: 9:00 a.m. – 3:00 p.m. 
239 South 500 East
Inspired by late nights at the live shows in next-door Urban Lounge, Rye is a modern and creative breakfast spot. Most of the seating is at wooden tables with comfortable upholstered chairs and a counter at the back allows you to watch the kitchen in action. The hyper-clean interior is filled with attentive staff who love the food they serve and want you to walk away happy. The Waffles & Whiskey with Pork Belly (that's right, waffles with pork belly) is a must-try dish—smothered in tasty whiskey-infused syrup. Their amazing Mushroom & Brie Scramble and Tofu, Spinach, and Tomato Scramble both offer lighter, but filling, options. It's probably the quietest spot on this list and is particularly handy if you wake up in a strange place after a show at the Urban Lounge and require breakfast ASAP. 
VERTICAL DINER 
Monday - Sunday
10 a.m. - 10 p.m.
2280 South West Temple
Vertical Diner is vegan comfort food at its finest. They use 100% plant-based ingredients in all their dishes, and the amount of flavor in each will surprise and delight you. You might be confused when you see sausage and cheese on the menu, but don't worry; they're made from tasty plants, nuts, and spices. The foodgasm from the Gluten-Free Pancakes with pure maple syrup from Vermont or the hefty Breakfast Burrito will be burned into your memory forever.
Don't worry if you're not into the whole vegan thing, you'll still love the options here. The Vertical Diner may even leave you wondering if you should convert to the veggie side. They serve breakfast from open to close, so this is another great spot for après breakfast.
Words: Cole Lehman
Photos: Luke Isom