SOLITUDE MOUNTAIN RESORT
Find solitude this winter. This resort has something to offer skiers and riders of all abilities with an average of 500" of annual snowfall, 1,200 acres of incredible terrain, 77 named runs, three bowls, and a Nordic Center. The mountain's layout is a tantalizing buffet of green, blue, and black runs.
Solitude is divided into two distinct areas from which to begin your mountain adventures—the Moonbeam and Village base areas. Moonbeam generally services day skiers and riders while the Village area is home to most of the resort's lodging guests. The Summit Express Chairlift takes you literally to the top of the mountain and opens up Solitude's most daunting and rugged terrain, including the famed Honeycomb Canyon. On a powder day, Honeycomb's steep chutes and glorious tree runs feel more like backcountry than in-bound resort skiing.
Solitude is the most remote of Ski City's four legendary resorts, about a 40-minute drive from downtown Salt Lake. The resort offers condos, townhomes, hotel rooms, a full-service spa, and dining options at a range of price points. One of its most unique features is The Yurt, where 26 guests snowshoe in for a four-course meal during the winter season.
Beyond skiing and snowboarding the terrain, snowshoeing is also available on select trails. You can even leave your baby or toddler in day care at the base while you take a guided tour of Solitudes nooks and crannies to explore the far reaches of the resort.
When you ski or ride Solitude, you'll have no trouble seeing why the resort was selected as one of the hosts of the 2019 FIS World Championship.
*Prices reflect off-peak pricing—prices may increase during peak season dates.
| | |
| --- | --- |
| Resort Info | |
| Number of Runs | 82 |
| Beginner Terrain | 10% |
| Intermediate Terrain | 40% |
| Advanced Terrain | 50% |
| Number of Lifts | 8 |
| Average Snowfall | 500in+ |
| Base Elevation | 7,994 ft |
| Summit Elevation | 10,488 ft |
| Vertical Drop | 2,494 ft |
| Miles to Major Airport | 32 |
| | |
| --- | --- |
| Amenities | |
| Ski School | Yes |
| Nordic Center | Yes |
| Snowshoeing | Yes |
| Spa | Yes |
| Retail/Rental | Yes |
| Dining | Yes |
| | |
| --- | --- |
| Prices | |
| All-Day Adult | $115* |
| All-Day Senior (65+) | $85* |
| All-Day Junior (8-12) | $69* |
| All Day Youth (5-7) | $45 |
| All-Day Child (4 and under with a paid adult) | Free |
| All-Day Beginner (Link & Moonbeam chairlifts) | $69* |
| PM Half-Day Adult | $100* |
| Full Day SolBright | $159* |
| Link Chairlift Only | $39* |
| 10 Ride Pass | $125* |
| Solitude All-Day Military | $80* |
| | |
| --- | --- |
| Ikon Pass | |
| Friends & Family Adult | $86 |
| Friends & Family Senior | $64 |
| Friends & Family Junior | $52 |
| Friends & Family Youth | $34 |
| Friends & Family PM | $75 |
Best Places to Ski at Solitude
Beginners can have a heyday cruising the mountain's lower lifts: baby Link, green-run-laced Moonbeam, and mellow Apex all serve easy, cruising terrain. The mellow Sunrise lift pokes along at the resort's far east end, carrying skiers three at a time to the top of a delightful winding gully that happens to serve as a disc golf course in the summer.
Intermediate and expert skiers will find no end of fun as well. The Summit and Powderhorn areas feature terrain as steep as you care to ski. And from the top of each, you can shimmy through a gate into Honeycomb Canyon, a crown feature of the resort. This canyon bears the remnants of the mountain's mining history; in fact, the Honeycomb Cliffs at the top of the canyon are so named because they're nearly hollow from mine-shaft tunnels. Mine-tailings piles and even old cabin remnants are scattered throughout the Summit and Honeycomb areas, serving as constant reminders of the place's hardy history.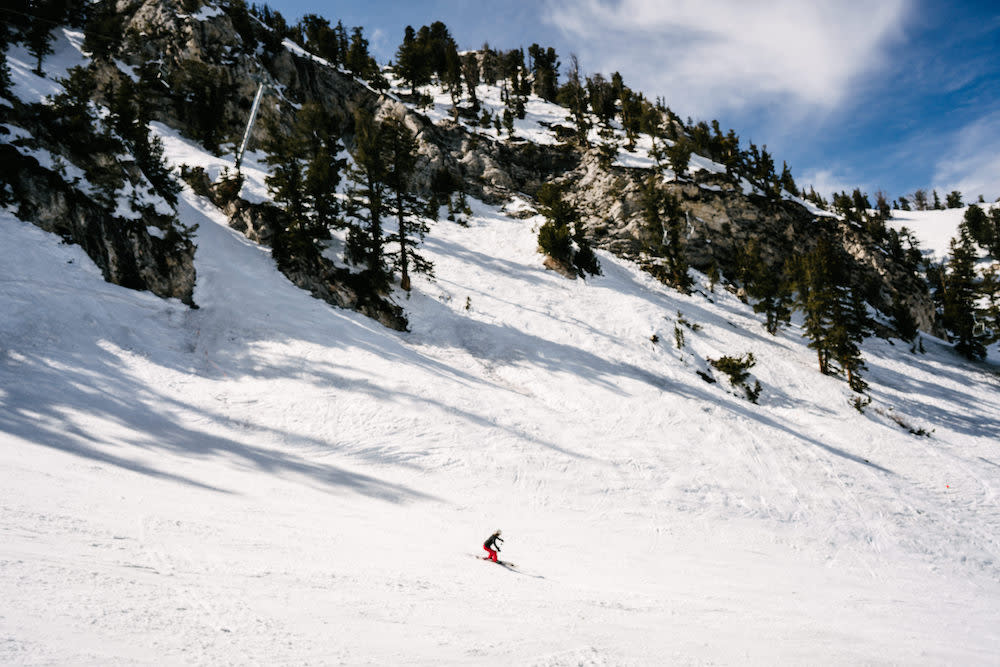 Best Places to Stay at Solitude
Especially lining the public ski bus routes, there are a bevy of hotels in Cottonwood Heights, Sandy, and Millcreek, the suburbs closest to the Cottonwood Canyons. Stay in this area, and you're poised for a timely strike on powder mornings or sunshine cruiser days. You can, of course, also stay in or near downtown Salt Lake. It adds a negligible amount of time to your ski transit and opens up a world of options as far as both lodging and nightlife are concerned. A great in-between compromise is the Sugarhouse neighborhood, which sits squarely between downtown and the canyons. It's a colorful and hip area offering tons of walkable restaurants, bars, and neat-o locally owned shops.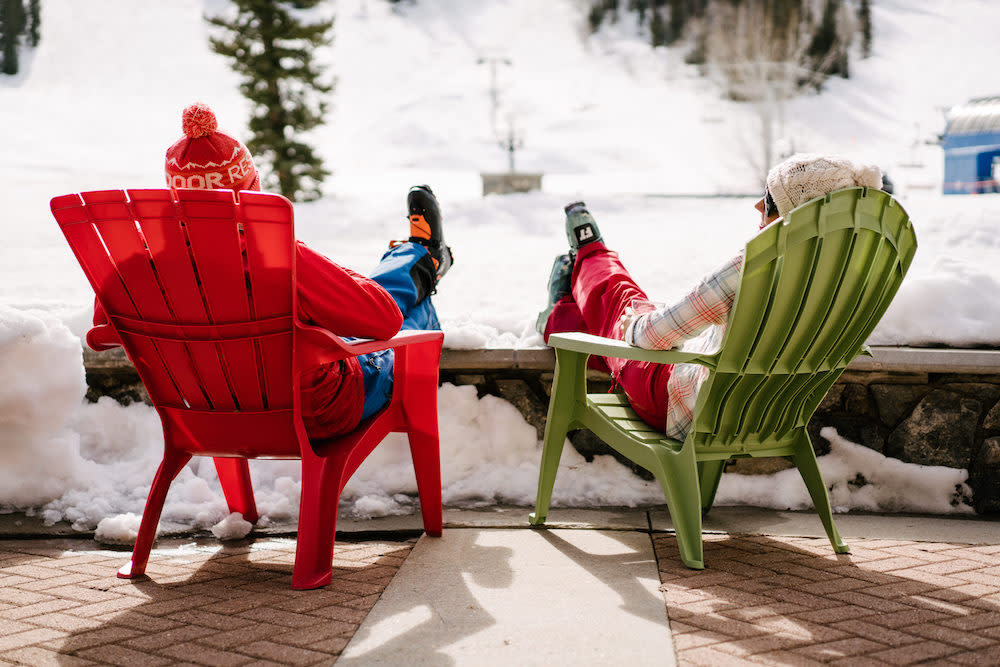 Best Places to Eat at Solitude
Be sure to start your day right, which likely means fueling up en route to skiing. Check out Roots Café in Millcreek for a killer huevos rancheros platter and piping-hot coffee. Or make a stop at Angel Café in Cottonwood Heights for an unforgettable breakfast just a few minutes away from the canyons. (Their angelic menu includes a "Cupid's Basket," an array of fried biscuits and croissants with berry toppings and creamy sauces. It sounds too decadent, until you remember you're about to ski all day, and you order two.) After skiing at Solitude, satiate your immediate hunger with a flatbread at the village's Honeycomb Grill or a lasagna at Silver Fork Lodge, a charming old spot along the Big Cottonwood Canyon Road. But definitely save some room for a proper dinner and drinks in town later. If you're staying in Sugarhouse, head to the popular 9th and 9th area for an array of eating and drinking options in a neighborhood you'll want to stroll around. Pago is a favorite for locally sourced, sublime food. And East Liberty Tap serves quality cocktails right across the street.
Downtown, it's hard to go wrong—but if you don't stop for a drink and a bite at Copper Common, you'll regret it. Taqueria 27 also offers a head-turning taco menu, right next door to hotspot Bar X, where the cocktails flow and the lights are turned low. If you need carbohydrates to complete your adventure day, check out Stanza Italian Bistro & Wine Bar. It's got the atmosphere and the decadent noodle dishes to put your body at ease and prep it for another big day.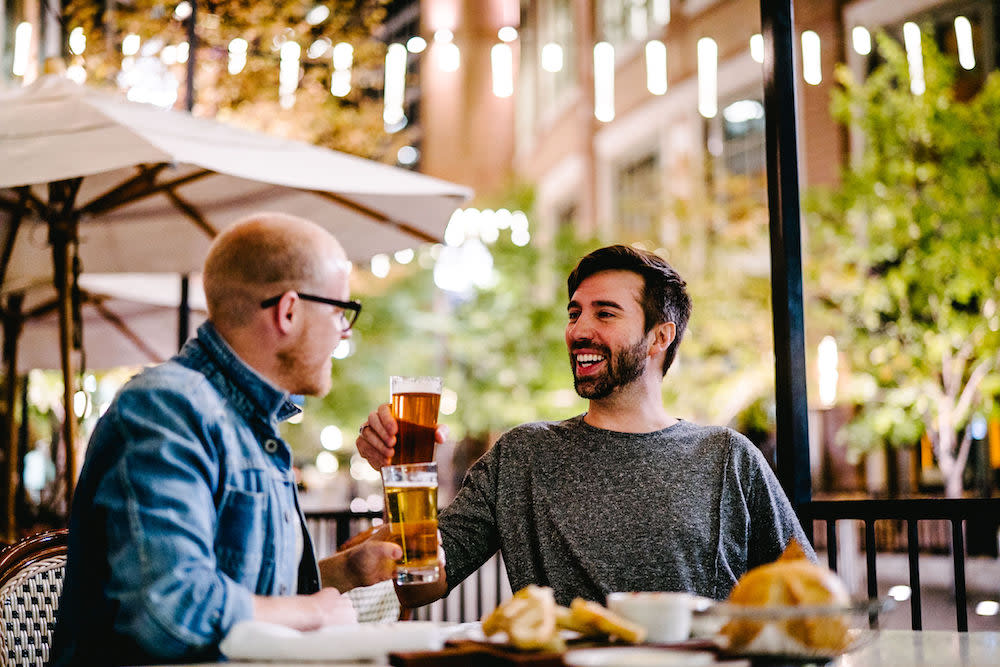 Featured Snowsports Academy Programs
Youth Snowsports Academy: To enhance the overall experience in youth academy lessons, we are introducing new age groups and lower youth to instructor ratios in the Explorer programs. Junior Explorer snowboard lessons have also been added.
Hidden Tracks: Hidden Tracks offers a unique guided tour that will explore the "nooks and crannies" of Solitude Mountain Resort.
Located just 40 minutes from downtown Salt Lake City, Solitude Mountain Resort offers a great selection of accommodations. Lodging options at Solitude include a collection of condominiums, townhomes and private homes as well as a full service hotel, The Inn at Solitude. For more information about lodging in the Solitude Village, please visit the website, solitudemountain.com or contact Philip Diana at 801-517-7702, 877-517-7717, or philip@solitudemountain.com.
On-Mountain and Village Dining
Dine on the mountain or in Solitude Village. This season, Solitude's restaurants have been enhanced to make your dining experience memorable. Choose from a variety of 10 fantastic restaurants with menus featuring creative meals for everyone. To learn more, please visit Solitude's website.