SNOWBIRD
Snowbird is all about the future. A sprawling resort served by an impressive array of high-speed chairs and its Aerial Tram, Snowbird is a playground for those who like to ride or ski fast, steep, and deep.
Skiing at Snowbird is thrilling. Crowding into your first tram is a frenetic moment that recalls finding space on a New York subway during rush hour. The 100-capacity tram drops you off atop Hidden Peak at 11,000 feet above sea level, below is a jaw-dropping panorama of high-alpine wonder. To your left is Mineral Basin, a wide-open mix of blues and cliff-hucking black diamonds. To your right is Gad Valley, topped with an imposing cirque that rolls out beneath the jagged peaks of the American Fork Twins. Behind you is Peruvian Gulch, accessed by Peruvian Express and connected to Mineral Basin via North America's only ski tunnel, which feels straight out of an Indiana Jones movie.
Snowbird's sheer size can be intimidating at first, but it's easy to find your groove in any of its three main areas. Mineral Basin has a lovely range of cruisers and groomers. Once you've picked your way down from the cirque into Gad Valley, the mid-Gad runs are a great mix for beginners and experts alike. For your back-to-base closeout, Chips Run is a 7.5-mile blue run that gives you a great ride through Peruvian Gulch.
While the thrills on-mountain will fill up your day, the 'Bird's vibe is most apparent on the tram deck, a convivial central plaza where everyone gathers for mid-day breaks and post-last-tram boasting. Locals know to bring their own hot toddy components, and you'll see the Jet Boil camp stoves cooking them up all over the deck.
| | |
| --- | --- |
| Resort Info | |
| Number of Runs | 168 |
| Beginner Terrain | 27% |
| Intermediate Terrain | 38% |
| Advanced Terrain | 35% |
| Lifts | 13 |
| Average Snowfall | 500in |
| Base Elevation | 7,760ft |
| Summit Elevation | 11,000ft |
| Vertical Drop | 2,900ft |
| Miles to Major Airport | 29 |
| | |
| --- | --- |
| Prices | |
| Area Day - Adult | $125* |
| Area PM - Adult | $110 |
| Area Day - Child 7 - 12 | $60 |
| Area Day - Child 6 and Under | Free |
| Senior (65+) Day | TBD |
| Alta-Snowbird | $149 |
| | |
| --- | --- |
| Amenities | |
| Ski School | Yes |
| Retail/Rental | Yes |
Best Places to Ski at Snowbird
When the tram line's long, locals tend to duck over to the adjacent Peruvian lift and lap this lively gulch all day long. Through a tunnel, the Peruvian lift access a back basin called Mineral Basin. This glorious bowl is a veritable playground with interesting terrain features and drops.
The resort's other major zone, Gad Valley, is jam-packed with fun when the better-known parts of the resort are bustling. Jump on Gad 2 or Little Cloud to lap Gad's intricate trees, twisting gullies, and powder-filled crannies. The lodge at the top of the Mid-Gad lift offers a snack and restroom break when the base area and tram-top eateries are full.
Snowbird's size means that even though it's popular, there's always something new to get to know about it. Even locals spend years safari-ing through the resort terrain, mapping out its hidden-treasure stashes and special lines.
Keep in mind that Little Cottonwood Canyon, within which the Bird is nestled, frequently closes for avalanche control. And in addition to that, since this is a highly popular ski destination, there's often heavy traffic getting up and down. To spare yourself any frustration or hassle, just hop on a Utah Transit Authority ski bus, which departs from multiple parking lots around the base of the Wasatch multiple times per hour, all day long. There are ski and snowboard racks mounted along the bus' sides, so you can just jump on, pay a few bucks for the ride, and kick back without fighting traffic or icy roads. Roll in to your ski day with a nice, low stress level and lots of stoke in your system.
Best Places to Stay at Snowbird
If you know you want to focus on Little Cottonwood resorts, there are several hotels in Sandy and Cottonwood Heights neighborhoods with quick access to the ski bus system (and many have ski rental shops advantageously located nearby). You could also rent a house or condo anywhere in the Millcreek neighborhood if you want to be right in between the Park City and Cottonwood resorts.
And if nightlife's your thing, you'll want to snap up a hotel room or loft that's right downtown. There are plenty of options, including the posh Hotel Monaco and cozy bed-and-breakfast mansions, as well as lower-budget places to rest your head. Anything downtown puts you within easy access of many of Salt Lake's best restaurants, bars, and concert venues. As a bonus, if you don't want to drive to the ski hill from downtown, you don't have to—you can ride the TRAX train all the way to a ski bus stop, hop on, and never look back. 
If staying on-hill is your thing, look towards the Cliff Lodge, Iron Blossom, The Lodge at Snowbird, and The Inn. For more on-mountain options Alta Chalets and Canyon Services have great accommodations, some of which are ski-in and ski-out.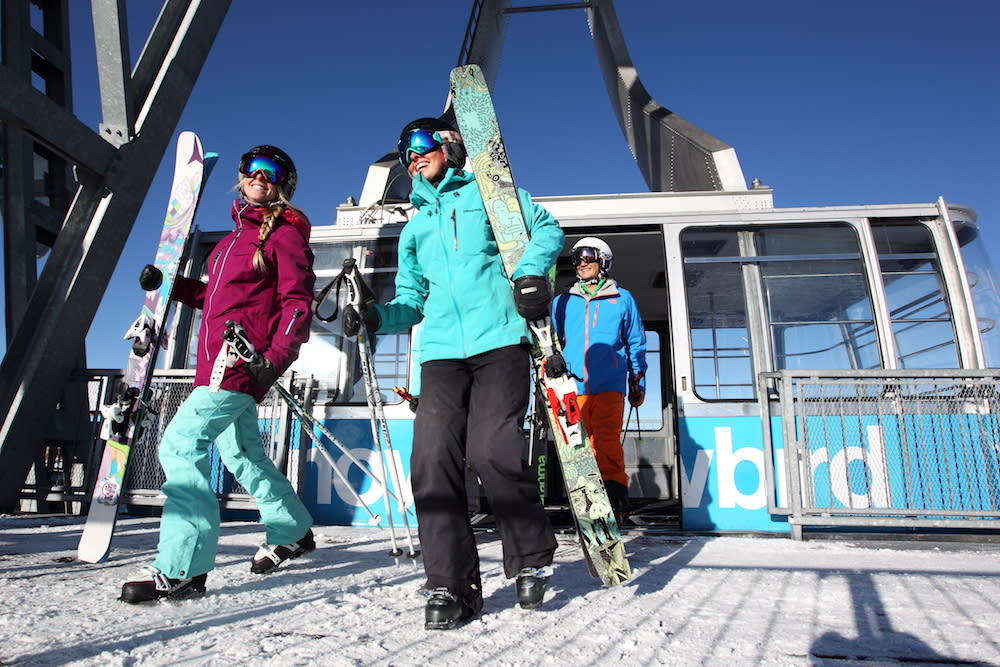 Best Places to Eat at Snowbird
The Hog Wallow near the base of Big Cottonwood offers après beers, pool tables, a down-to-earth vibe, and live music multiple nights per week. If you want to up your ante (and put on a clean outfit), there's some notable fine dining in the Cottonwood Heights area too. Tuscany restaurant has an Italian villa vibe and decadently delicious food, as well as its nearby cousin, Frank's, a French-American bistro. Market Street Grill is a classy but unfussy, bustling establishment serving fresh seafood, amazing crusty bread, and lots of tasty wine.
If you stay or venture downtown or to the Sugarhouse neighborhood, your options open up even more. Snag a Scandinavian breakfast at locals' favorite, Finn's Café, which serves piping-hot coffee and comforting delicacies in a bright, airy atmosphere. Or head up to Oasis Café for a colorful menu focusing on healthy, organic, and locally-sourced ingredients. For downtown dinners, check out Frida's or Alamexo if you're a fan of upscale Mexican dishes, or hit up Eva's for small plates and cocktails you'll never (ever) forget. Then amble over to Whiskey Street next to Eva's, which serves all the bourbon and scotch varieties you could ever dream up. If there's a better nightcap to wrap an amazing ski day, we haven't heard of it.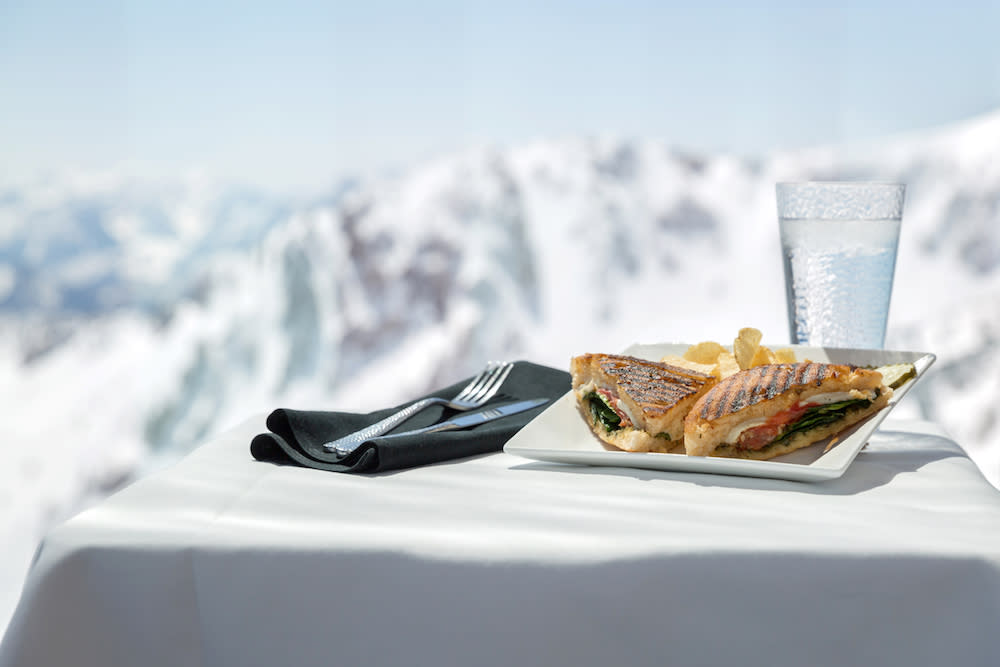 Scenic Helicopter Tours
Anyone who has flown into Salt Lake (aka Ski City) knows the dramatic views as you descend on the towering Wasatch Mountains. Take that experience to the next level with Powderbird's Scenic Helicopter Tours out of Snowbird starting this Labor Day weekend. See the Cottonwood Canyons from a whole new perspective, and get a better view as to why Ski City is such a gem. Start planning your next trip to Ski City and put this helicopter tour on the top of your list of things to do.
Mountain School
Learn to ski and ride or just fine-tune your skills with Snowbird's best instructors.
Cliff Spa
This rooftop facility offers various treatments, an outdoor pool and hot tub, a fitness center, and more.
Guided Mountain Tours 
Snowbird offers daily complimentary intermediate and advanced tours at 9:30 and 10:30 a.m. Lift ticket required.
Snowcat Skiing for Nature
A guided backcountry ski experience in upper American Fork Canyon. Half-day, custom, and private tours are available.
Snowmobiling 
Two- and three-hour tours through Mineral Basin offered daily.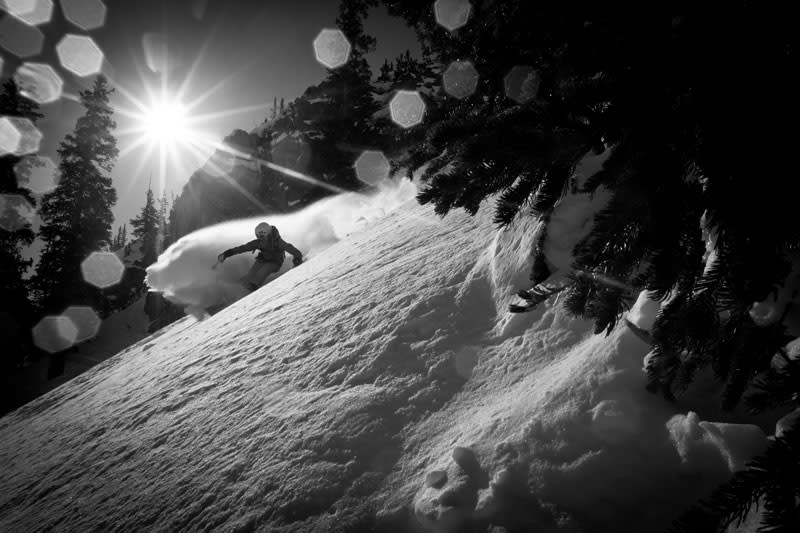 The Cliff Lodge & Spa 
Features ski-in/ski-out accessibility, complimentary wireless Internet, two lounges, a business center, three restaurants, a heated outdoor pool and hot tub complex, The Cliff Spa, and Camp Snowbird.
Iron Blosam Lodge 
159 varied condo types, Wildflower Italian Ristorante, pool and spa facilities on site.
The Lodge at Snowbird 
A variety of slopeside hotel and condominium units. Restaurant, heated outdoor pool, hot tub, and sauna.
The Inn
Nestled in Snowbird's Pedestrian Village, the Inn provides the comforts of home with a variety of lodging options.
Mid-Gad Restaurant 
Snowbird's mid-mountain eatery, open daily during the winter, serving burgers, sandwiches, pizza, chili, salads, beer, and snacks.
Rendezvous
Cafeteria at the Snowbird Center offering great sandwiches, soups, pastas, and salad bar.
The Forklift
Convenient breakfast and lunch spot on Snowbird Center Plaza Deck serving great burgers, sandwiches, and salads.
The Atrium
Hearty skiers' lunch buffet at The Cliff Lodge.
Creekside Lodge 
Gad Valley base area cafeteria offering quick lunches and a large sundeck with grill.