SNOW AND ___
Snow and community.
Snow and sanctuary.
Snow and beer at the Goldminer's Daughter.
Alta's snow has achieved legendary status among skiers in the know—Alta experiences a unique microclimate that delivers lots of unbelievably skiable powder—but it's more than the snow that keeps these skiers coming back season after season, for decades.
These Alta lifers share what keeps them religiously returning.
HANNAH WHITNEY
Close your eyes and picture yourself doing your favorite outdoor activity in the BEST conditions imaginable. Now pretend that your favorite activity is skiing (if it isn't already) and that you're floating effortlessly through powder that makes you feel like the best skier on the mountain. That's Alta's snow.
❄❄❄❄❄
When Alta opens each year it's like life being breathed back into the mountain community. The tribe gathers back together. You don't need words, because the smiles and energy in the air remind you that you're in the right place. The communities that I've become a part of are like family. It's a place to share my voice and passions, and to listen to others.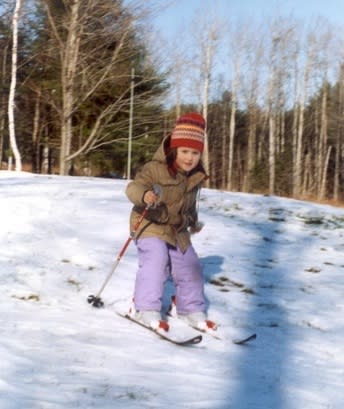 I'm from Vienna, Maine. I've called Titcomb Mountain (ME), Crested Butte (CO), and Alta my home mountains. My story is of a classic East Coaster learning to ski at the age of 3 in my back yard.
I skied for fun with my family and then joined the Mount Blue Middle School and High School race teams, which helped me hone my technical ice skiing skills.
My parents instilled in me an appreciation of the earth and a sense of adventure (and I developed a lust for big mountains and more snow), which led me west for college. After studying Ecology and Environmental Science at Western State College of Colorado, I spent four years on the competitive freeskiing circuit, traveling around the US and Canada. During that time I enjoyed shooting photos, building friendships, and, most importantly, finding my place in this amazing winter and outdoor community.
Skiing is the reason I moved to Utah 8 years ago (the epic 700" winter of 07/08). Alta was the first place I skied, the first place I worked, and is still the ONLY resort I've held a pass to since moving here. I was invited onto the Alta Athlete team and the Alta Green Team, and I've been involved ever since.
 
ADAM CLARK
I've seen snowflakes from all over the world, six continents, 26 countries, and countless nooks and crannies. But the Alta snowflake is still my favorite. Light, fluffy, and there's just so many of them. They contain something unexplainable. As the millions combine into a white blanket, I can't imagine anywhere else I'd rather be with my skis on. Like the snowflakes, there's something special about the top of Little Cottonwood Canyon. It's hard to explain, but every time I park at the top of LCC, I'm happy I made the journey.
❄❄❄❄❄
Alta just feels like home. It's comfortable, the mountains are beautiful, and it always has good skiing to offer. Plus, I'm always going to see somebody else smiling and happy to be up there, I'm guessing for the same reasons. 
I'm from Salt Lake City, Utah. My parents raised me on skis, and I spent a bunch of years at AYC (the Alta Youth Club). I've been skiing Alta since I was 4 (which means I've been skiing there for 32 years), and I've been skiing as much as possible ever since.
Editor's Note: Adam is also an accomplished ski photographer. He began taking photos in high school and has since shot some of skiing's greatest athletes. He's also a past participant in the Ski City Shootout. 
 
MARK POLLISH
Alta's snow is about quantity, quality, and consistency. Once you've skied it, you'll agree that it's absolutely the best skiing in the world.
❄❄❄❄❄
I keep coming back to Alta because it's a sanctuary of quiet peace in an increasingly changing world. You can come here any time of the year and find nature at its finest. Abundant natural beauty with stunning views and wildlife. And Alta is and always will be a true sustainable skiing community. I came for the snow but stayed for the community.
I was born in the mining town of Butte, Montana. We lived there for three years before my dad was transferred to Chile, South America for six years. We then moved to Arizona, and then to British Columbia. We moved to Salt Lake City in 1967, which marked the beginning of high school and my first time skiing Alta. I was hooked.
I learned to ski in British Columbia on hand-me-down wooden skis with metal edges and leather boots. I skied Alta, Brighton, Solitude, and Park City all through high school and graduated in 1971. The next year Snowbird opened and I went to the University of Utah. To get a free ski pass I worked at Snowbird part time, which worked out great for my ski time and kept me sane while getting my degree.
The summer of 1978 I graduated from the University of Utah with a degree in Geography. I had no job, no money, no place to stay, and no car, so I thumbed a ride up to Alta to go for a hike and ponder my future. I got dropped off in front of the Alta Lodge and immediately got a job waiting tables and a room to live in. That winter I switched to handyman to have better ski time. I worked that ski season washing dishes and shoveling snow—lots of snow! I also worked one night shift down at Snowbird bartending at the Keyhole to get my 'Bird pass.
I had the time of my life skiing every day with newfound friends. One of those friends and I traveled to South America that summer. We returned broke but grateful for the experience. He went back to Oregon to finish school and I went back to Alta to pursue my dream. Another winter skiing powder with friends and another summer trip to South America. Returning home, I worked several years as a dispatcher for the Town Of Alta. I furthered my career by taking an EMT course and an avalanche class and then got my real dream job on the Alta Ski Patrol. I have been "living the dream" ever since!
 
DAVE MCREYNOLDS & FAMILY
It's been said that Alta rules the world for snow conditions. There can be days where the deepest turns of your life are happening every run. During a storm, it's hard to find anywhere that has skiing like Alta. It's one of the only places where you can be ripping the best runs on the hill while it's snowing 2+ inches  an hour.
❄❄❄❄❄
There's a unique feel to Alta and Little Cottonwood Canyon. Even the smell of pinyon pine burning in the lodges brings us back to being kids and learning how to ski powder. Alta has provided me with many deep powder memories with my family. To be able to share these memories and create new ones with my kids here at Alta is something that is truly special and keeps us coming back every year.
I'm from Central California, and Whitney is from Vermont. We met skiing at Alta back in '96.
I grew up skiing in Lake Tahoe, and Whitney grew up ski racing at Sugarbush, Vermont. Both of our families have always spent time in Little Cottonwood Canyon. I moved to Alta in 1994 and enjoyed one of the best seasons of all time and was hooked. After a couple of seasons I started filming and shooting photos with legends Lee Cohen and Adam Clark.
One of the coolest aspects of spending so much time in Alta has been witnessing a new generation grow up on the hill and change the way we look at the mountain. It's pretty amazing to see how skiing has evolved over the years. Now we get to see our kids grow up in Alta, and could not ask for a better place to watch them learn about skiing and the mountains.
 
KALEN THORIEN
 You know when you look out the window of a plane and wish you could jump out and bounce around in all the fluffy cumulus clouds? That's exactly what Alta's snow feels like.
❄❄❄❄❄
Alta embodies an authentic freedom and youthful zeal I haven't found anywhere else. Even with its growth in popularity, it's maintained its unpretentious, traditional history that focuses on excellent skiing and wonderful community. I can come here and find solitude and the epitome of soul skiing, or I can link up with my friends and ski laps and enjoy a beer on the sunny deck of the Goldminer's Daughter. It's simple, it's classic, and it's perfect. Everything you need, nothing you don't.
I'm originally from Idaho, but I've called Salt Lake home for 10 winters (this will be my 10th season skiing Alta!) I now live in a travel trailer and call the road home, as well. 
I skied a bit as a kid. My parents would take my sister and me on the annual holiday trip, which I slowly started to despise. I eventually quit skiing all together when my parents realized they could leave me home alone. Then in high school, the flame was reignited, and I became obsessed. I would skip school at every opportunity to go ski at Tamarack and Brundage, and the second I got my diploma, I headed to Alta. Washing dishes, flipping burgers, whatever it took to ski as much as possible and to get better.
When I moved into the city, I found a summer job wildland firefighting which allowed me to save up enough money to take my winters off and ski. Soon sponsors started to trickle in, and within the last year, I've been able to do this professional adventuring thing year-round.
 
SAMMO & LEE COHEN
Sammo: The best thing about Alta's snow is cold, blower powder blowing over your shoulders turn after turn, perfect temps, and continuous snowfall refilling your tracks from the previous runs all day long. 
Aside from the blower powder, the things that keep me coming back to Alta are the amazing natural jump lines and running into my childhood heroes on the High Traverse. The strength in Alta's tight-knit ski community is what makes Alta, Alta.
[Right] I'm from Cottonwood Heights, Utah. I grew up skiing Alta. My pop ventured from the East Coast out to Alta in the late '70s, finally figuring out what skiing powder was all about. My folks raised me at Alta and got me on skis at an early age presenting the opportunity to grow and ski in a great community.
Editor's Note: Sammo is a sponsored skier representing Alta all over the world. 
❄❄❄❄❄
Lee (Sammo's Dad): It snows often at Alta, and it usually comes in warm and then gets lighter as it gets colder and accumulates—it's called right-side-up snow. It makes for the best powder skiing. If you spend a winter here and it dumps, you're probably hooked for life. On a bottomless day, High Rustler could be the best run in the world.
Alta has the feel of a small ski area, but it skis like a big one. Its open lines and great pitch and tree shots and chutes (and snow) all tickle your soul—if you're a real skier you connect with this place.
[Right] I grew up about 25 miles outside of New York City. My dad first took me skiing when I was about 5. He skied southern Vermont in the '40s, so his stomping grounds were Bromley and Mt. Snow, and that's where he took me. Talk about old school. I had a couple of friends whose families had ski houses, one near Hunter, and one in Stratton. I'd get to go with them sometimes. I didn't ski much in high school, but I decided to take a year off after two years in college; I'd gone skiing and was smitten.
I hitched out to Yellowstone for the summer, and that winter I ended up basing out of A-Basin, road tripping to check out a bunch of ski areas in the Colorado and Utah. I don't remember how I first heard about Alta, but the powder legend was the gist of it. In January 1979 a buddy and I ended up camping out off Lot 1 at the Bird, pitching my tent in a hole we dug alongside the creek while we skied Alta and Snowbird for about ten days. I got a taste of Utah pow and I was hooked. I went back and finished school, coming out during recess for a few weeks each winter, but the day I graduated I packed my car and headed out to Salt Lake. Pretty much been here ever since.
Editor's Note: Lee Cohen is one of the ski world's best-known photographers. Be sure to check out Alta Magic, his book of iconic photos and collected Alta essays. 
 
CHAD WOODMAN
Alta is known for great powder, but it also gets great graupel and even corn. The storm skiing is great. Days later untracked terrain can open on a bluebird day. By the time the powder is tracked out, another storm will be on the way. And the process is repeated.
❄❄❄❄❄
The terrain is the best part of Alta. It's not just limited to the runs labeled on the trail map—there are countless lines in between the runs on the map. Devil's Castle must be 100 acres and it's only labeled as a single trail. 
I'm from Rye, New Hampshire.I learned how to ski at about the age of 8 at Saddleback Mountain in Rangeley, Maine. I continued to ski in New England until the age of 25 when I moved to Alta for the winter. This will be my 14th winter skiing at Alta.
Editor's Note: Chad is an awesome tele skier; if you're lucky, you can find him dropping the knee in some of Alta's best-kept secrets or competing in the Wasatch Powder Keg.
TOM NORTH
Alta's snow is generally QUIET, a sharp contrast for Midwesterners/East Coasters who know LOUD powder. It's soft, forgiving, dry…stays fresh for days after a storm. I can always find some freshies…just have to know where to look. I've skied all over the world and at almost every resort in the US—the snow at Alta is the best in the world. Some mountains can compare for a day or two, but none can compare for the whole ski season.
❄❄❄❄❄
Alta is a place for skiers who love the skiing and don't need a cosmopolitan atmosphere at night. Ski hard and then try to stay awake through dinner! I also like that there aren't chairlifts on every peak/ridge. We have to work to get to some of the best skiing on the mountain—lots of traversing and hiking—and a bit of work is well rewarded. All of my kids grew up skiing at Alta and love it there. We love to ski hard, eat lunch together, ski some more. We love Alta Java and we miss the now closed Joanie's.
I'm from Michigan. I lived in Utah and worked at Alta from 1980 to 1985, then headed to Colorado and Oregon, then back to Michigan in 1990. I started skiing at age 2 in MI and skied regularly there, then started skiing out West in the early 1970s. I skied Alta for the first time in 1974.
I was a full time ski instructor and ski racing coach for 10 years, 1980-1990. I spent five years on the Alta ski school, did clinics and exams for PSIA (Professional Ski Instructors of America), coached racing five summers at Mt. Hood, Oregon, guided a blind skier in the 1984 World Championships for the Disabled in Austria, coached in the 1988 Olympics in Calgary, and was in involved in many other activities in the ski business.
I retired from skiing in 1990. Now I ski Alta 2-3 times per season and love every minute. I'm again coaching ski racing for a local high school team in Michigan.