Explore Another Neighborhood
EAT & DRINK
Salt Lake is becoming one of the truly great food cities in the West, if not nationally. Much of this recognition stems from the downtown restaurant scene, which includes longtime staples and new tastemakers.
Proving that Utah has incredible beers, both 4.0% ABV and high-elevation, two pubs hold down downtown: Squatter's Pub & Beers and Red Rock Brewing Co. Exciting new restaurants are popping up all the time; some favorites include Whiskey Street, where the brunch, lunch, and dinner are as excellent as the whiskey list, and Spitz, a killer spot for Middle Eastern street food. And when one of the rolls from Takashi melts in your mouth, you'll be surprised by the quality of sushi we enjoy in the high desert. 
New American cuisine is creating a culinary stronghold downtown with chef Ryan Lowder's Copper Onion and the neighboring craft-cocktail lounge Copper Common. The Tin Angel's eclectic fare complements its funky digs. Pallet has a cozy interior with a fabulous menu and creative cocktails.
For lunchtime meals, Tony Caputo's Market & Deli can't be beat. The Italian importer and creator of delicious sandwiches is a must-stop while downtown. Also, stop in for a lunch bite or pastry a la Francais at Eva's Boulangerie. If you have a hankering for something substantial, people often line the street for Bruge's Waffles and Frites.
The Rose Establishment makes for a nice respite from downtown's bustle; the coffee shop has excellent brews and is wifi-less, so you can recharge without being tied to your digital devices. Another new java spot is local roasters Charming Beard Coffee in the new and gorgeous Finca restaurant, which serves unreal tapas and Spanish-inspired cuisine.
Many of the nightlife hotspots are within walking distance of one another, so go ahead and take the Ski City Downtown Bar-Crawl Challenge.
SHOP
Downtown plays hosts to both local-centric shopping districts and impressive malls. The small shops along the East Broadway shopping district ooze character and tend toward the vintage and antique. Among them, the mid-century modern furniture boutique Green Ant is worth at least a drop-in, or, maybe, you'll drop your plastic and have something incredible shipped home.
Around the corner, purveyors of the printed word Ken Sanders Rare Books has an assortment of new, used, and rare books for your reading pleasure.
Head over to the new City Creek Center. It encompasses 100-plus businesses and anchor department stores—Nordstrom and Macy's—11 restaurants, 800 residencies, a Bellagio-inspired "water and fire" exhibit, and a man-made creek. Basically, it's swanky. On the west side of downtown sits The Gateway, a large, open-air retail, residential, and office complex. There's shopping and eating for days, and unlike City Creek, the Gateway is open on Sunday. 
PLAY
Like art? Well, you've come to the right place. While downtown Salt Lake City is only 40 minutes from ski resorts, it boasts arts and theatre to fill your evening. Abravanel Hall is home to the world-class Utah Symphony, led by Maestro Thierry Fischer, and you can present your lift ticket or Super Pass at the venue for a $35 best-in-house seat. You can see the Utah Opera and Ballet West take center stage at the Capitol Theatre, which also is home to Broadway Across America musicals and the GAM Foundation's Jazz SLC concert series. Rose Wagner Performing Arts Center houses a number of contemporary dance and theatre groups, such as Plan-B Theatre Co., SB Dance, Ririe-Woodbury, and more.
If rocking out is more your thing than sitting down for an artsy evening, there's plenty of touring bands coming through town. Check out The Depot for consistently great 21+ shows. In the summer, the Twilight Concert Series in Pioneer Park is a huge deal, attracting more than 40,000 fans to see big-name national acts.
The Utah Jazz play all winter long at the Vivent Smart Home Arena (formerly EnergySolutions Arena), bringing thousands of fun-loving sports fans. Nothing caps off a day on the mountain like a beer and an NBA game. 
Temple Square is a must-do for many, especially with its winter light show, but the summer flowers and water fountains are beautiful, too. The museums and information you can glean about the LDS Church are also quite fascinating. Knowledge-thirsty families may want to head down to the Discovery Gateway or Clark Planetarium. And spend an hour or two gliding on ice at the Gallivan Center ice rink, a great evening or pit-stop for your night out.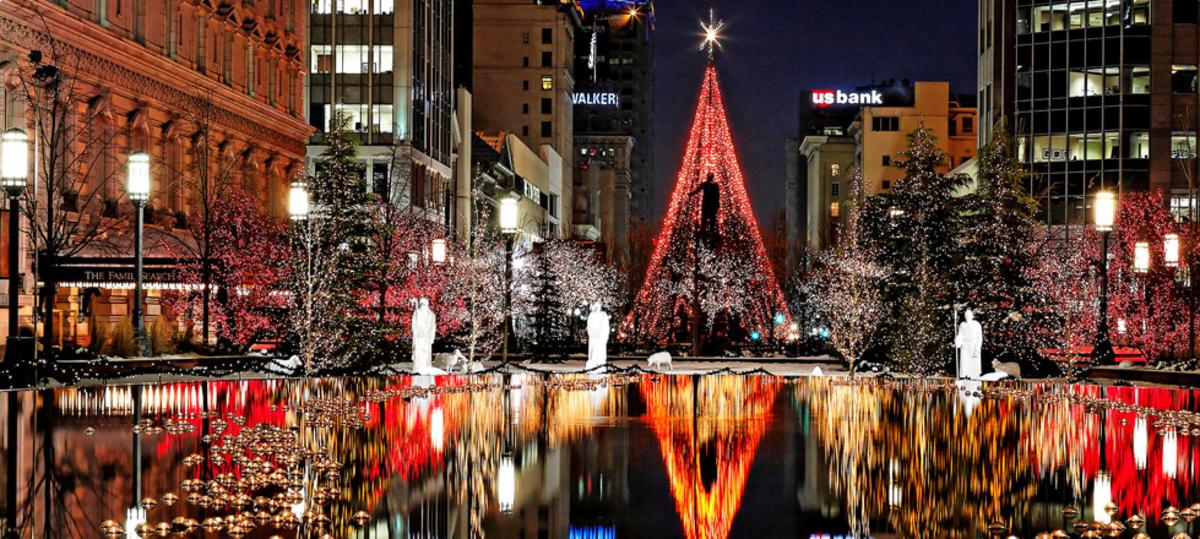 During the summer, the Downtown Farmers' Market in Pioneer Park is a great chance to buy local produce and arts, and in the winter months it condenses and moves to the Rio Grande station. It's one of the longest-running and largest markets of its kind in the country. The City Library isn't your parents' stuffy library filled with hushes and dust; it's the hip center of a jovial neighborhood, and the architecture is modern and stunning.
STAY
An upscale affair, The Grand America Hotel is Salt Lake City's only AAA Five Diamond hotel. Make sure to check out the beautiful Italian marble bathrooms and drop in for the celebrated Afternoon Tea ceremony. The Historic Peery Hotel, built circa 1910, is allegedly haunted (yep), but full of charm and style. A Kimpton hotel, Hotel Monaco is another excellent option for those preferring a little more pampering and service. Additionally, the hotel's Bambara restaurant serves delicious food and craft cocktails in back bar, The Vault.
Downtown also has your amenity-heavy, service-minded national hotels, such as Sheraton Salt Lake City Hotel, Salt Lake City Marriott City Center, and Hilton Garden Inn Salt Lake City Downtown. Budget travelers, however, might be inclined to crash in a sub-$50 room at Royal Garden Inn.
HIDDEN GEMS
Take in a beautiful vista of the urban center and the alpenglow illuminating the Wasatch Mountains on the roof platform of The City Library or from the Roof Restaurant in Temple Square. Go for a stroll and remark on the historic homes and buildings around South Temple and up towards the Avenues and Capitol Hill. And poke into one of the area's oddest attractions, Gilgal Sculpture Garden (749 E. 500 South). The small park is home to 12 original sculptures and over 70 stones engraved with scriptures, poems, and literary texts associated with Mormonism. There is, notably, the Sphinx with Joseph Smith's head. All of the works of art were a labor of love designed and created by LDS businessman Thomas Battersby Child, Jr. in his spare time.
HIGHLIGHT: 2ND & 2ND
Salt Lake City loves it when the same numbered streets connect (e.g., 9th & 9th, 15th & 15th, 21st & 21st), and this charming little 'hood is no different. While the buildings date back to the 1800s, the locals are young, hip, and art-crazy. On Gallery Stroll—held on the third Friday of each month—the block is booming with exhibits at clothing store FICE; Copper Palate Press, a screen printing cooperative; and CUAC, which is now Salt Lake City's foremost contemporary art gallery. Grab yourself a craft cocktail at Bar-X after taking in the art. Next door, Beer Bar serves up an impressive selection of draft beers, a rotating list of craft beers from all over the world, and artisanal brats. End the evening and soak up all the booze with some slices of pizza at 2nd & 2nd mainstay Este Pizza Co.