If your idea of a family vacation means something quiet and intimate, involving days of snow play, afternoons of ice skating, and evenings roasting s'mores around the village fire pit, then you've come to the right place. Solitude Mountain Resort eschews razzle-dazzle nightlife options and high-traffic attractions in favor of something that means a little more: having a ski run to yourself, a lively dinner conversation, swings of fate in high-stakes family board games, a headlamp-illuminated walk through the silent nighttime aspens.
It sounds almost over-the-top postcard-y, and, actually, that's exactly why you go. Nearly every other resort lands on an extreme end of the spectrum: either you're chopping your own firewood in a cabin recently vacated by a family of raccoons, or you're in a theme park-esque swirl of rides, arcades, sprawling chateaus, high-volume bars, and midnight mini golf.
If you're looking for a mountain stuffed to the gills with showy attractions, look elsewhere. But if you're looking for a quiet village with comfortable, upscale lodging and a gorgeous mountain outside the window, you're pretty much set.

Your day on the mountain starts when you boot up, pull on your coat, and cross The Village bridge to the snowy world beyond. If you have kiddos in tow, you're in the right place. The beginner Link run connects the village with the lower day-lodge, Moonbeam Center. You can start your day skiing down Link to get to Moonbeam and its gentle network beginner-friendly terrain. (If tears arise, a quick hot-cocoa stop in the Moonbeam cafeteria can clear that up. While you're at it, quietly pick up a little candy to stow in your pocket. Bribery has motivated many a generation of great skiers.)
Or, if your plan involves dropping off the little ones in the care of a capable ski instructor, just contact the ski school, Snowsports Academy, in advance to arrange a shuttle snowmobile pickup from the village bridge. They'll take good care of the kiddos while you explore the wild white yonder.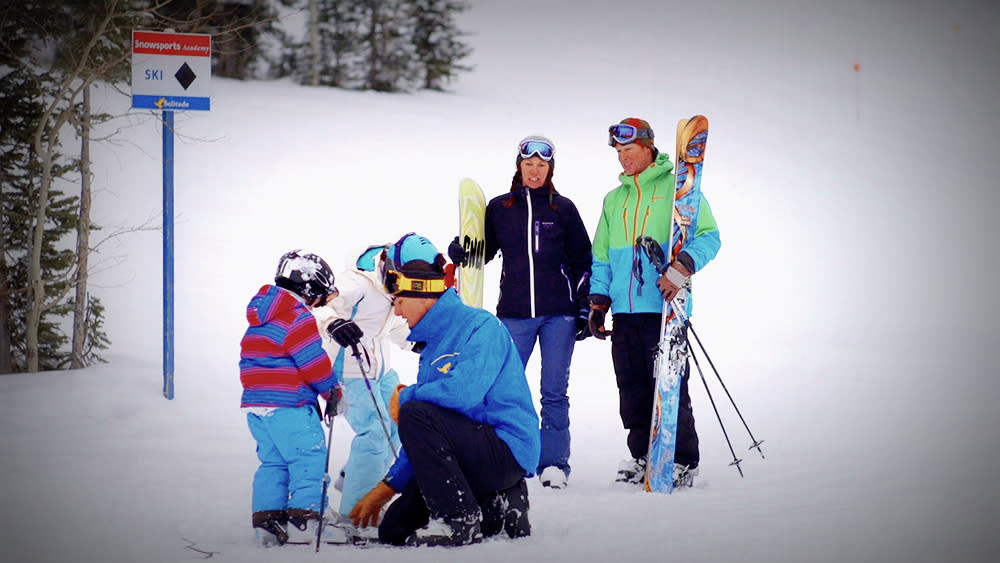 If it's a sunny groomer day, hold on to your hat—Solitude is known for its quality corduroy. Head for the Powderhorn lift right off the bat. The first thing to do in the morning when the corduroy is crisp and the groomer is unsullied, is take a fast lap down Diamond Lane. Veer left at the flats to end up back at the Eagle Express Lift, where you can cruise quick laps all the livelong day.
And if it's a powder day, then lo and behold, the angels of Big Cottonwood have smiled fondly upon you, blessing you for choosing the less-frenzied Cottonwood canyon. At the beginning of the day, ski patrol will still be bombing the Summit area, but if you're wise, you'll poise yourself for Summit plundering as soon as it opens. So hover around the Sunrise lift, taking little ten-minute powder forays for lap after lap until the ropes drop for Summit access.
Once you're on the Summit lift, you're set. This part of the resort is a round bowl of interesting terrain with a mellow groomer winding down its middle. If you like to keep things blue-square-rated, stay on the powder-frosted Dynamite run. If you're a little more adventurous, the sharp drop offs in the Headwall Forest await.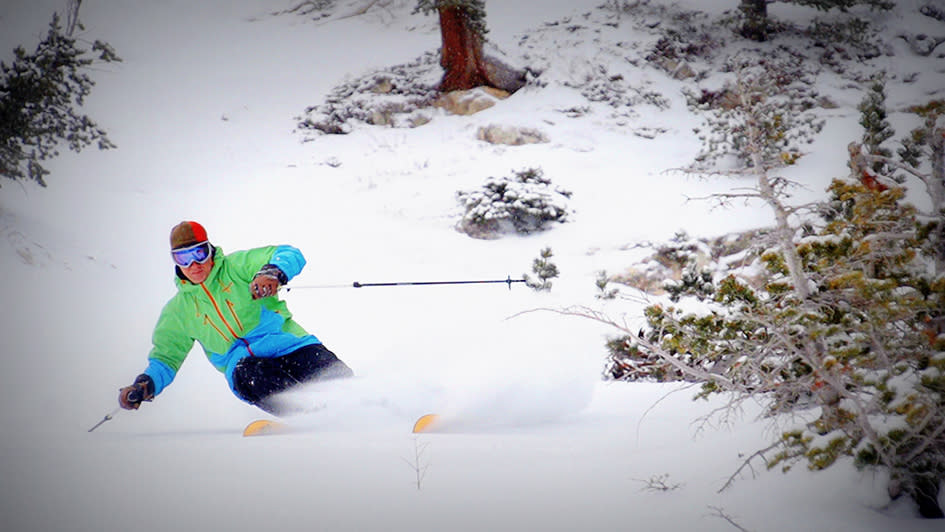 When all the dust settles with avalanche control, Honeycomb Canyon will deliver fresh bounty. Honeycomb is a magic place that derives its name from the old mine shafts that carved out its stone interiors a hundred years ago. The dramatic Fantasy cliffs are mostly hollow inside—thus the name Honeycomb Canyon.
What the canyon's full of, though, is soft fields of snow. Drop in soon for a quick hit, or traverse afar into the Black Forest woods or Boundary Chutes. A little sidestepping or booting will yield delightful returns. A Honeycomb run is so good that you don't mind it taking a while to get back to the top and repeat it all again. In fact, you'll be glad the hurried masses stay far away.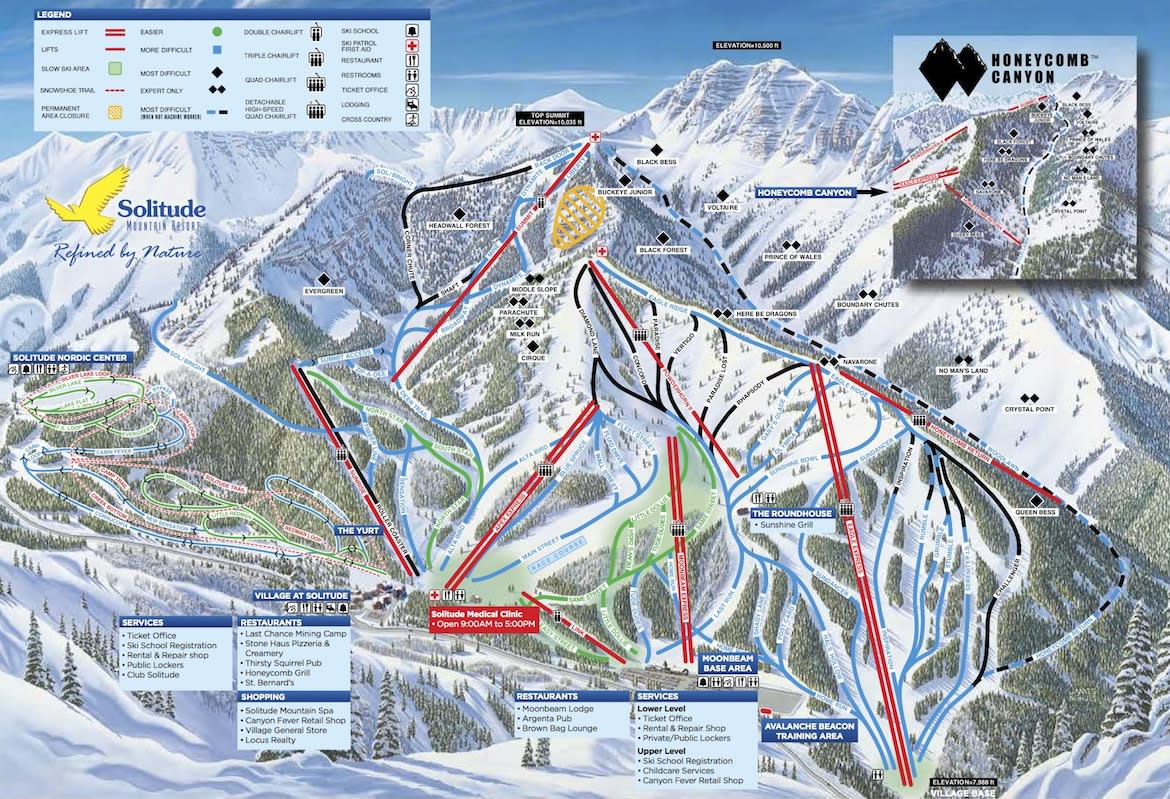 Somewhere in the middle of all this excitement, you'll need a mid-day lunch stop. Honeycomb Grill is perfect if you have a little time on your hands to warm up, order a proper hot meal, and admire the slopeside views out the restaurant's tall windows. Their menu is grown up, but they have enough kid-friendly offerings to keep the young set happy. (No kid has ever turned down a cheese pizza. Ever.)
Once the day is over, lessons are through, and everyone's had enough slap-happy grins to call it a day, The Village remains a pleasant and mellow hangout through the evening. There are few crazy late-night goings on, but there's fun aplenty to be had. Rent some ice skates from The Village rental shop and take a spin on the skating rink, watch a movie on the big screen in Club Solitude, take a soak in the hot tub, and maybe treat the family to a special St. Bernard's dinner.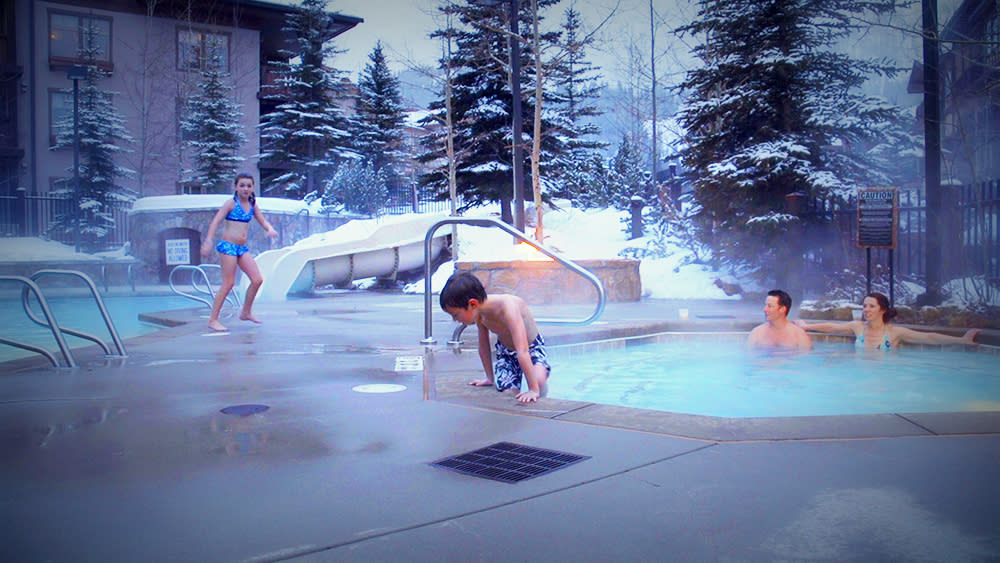 St. Bernard's is one of the finer restaurants in Utah, with an exceptional menu and even finer wine list. It's small and cozy, with a crackling wood fire burning each evening and polite, unassuming waiters serving up the best risotto you ever had to cap off a powder day.
At the end of the day, when you collapse into bed with visions of powder plums dancing in your head, you'd be hard-pressed to want anything more. A crisp Big Cottonwood day and a cozy après evening in the village are just the antidote to everyday.