Words & Images: Austen Diamond
Solitude Mountain Resort hosts an Avalanche Rescue Dog demo several times throughout the ski season, and attendance ranges from 50 to 150. Mock avalanche rescues and a brief overview of recovery procedures are conducted by ski patrol at the base of the Apex lift. Here, the highly trained dogs of Solitude's K-9 Avalanche Rescue Program show off their skills.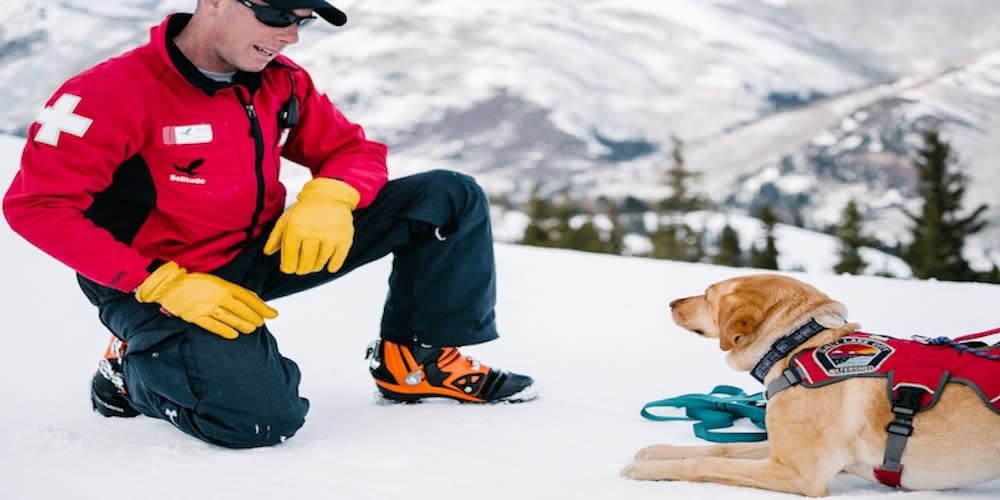 The avy dogs are an integral part of Solitude's avalanche rescue efforts. Ski patrol utilizes avalanche transceivers and Recco technology, in addition to strategic search methods, but the dogs' sense of smell and agility make them vital to ski patrol's work.
"It would take 20 people doing a probe 20 hours to fine search an area of 100 yards by 100 yards, where it would only take a dog 20 minutes," says
Keith Sternfels, Solitude assistant patrol manager and avalanche dog coordinator.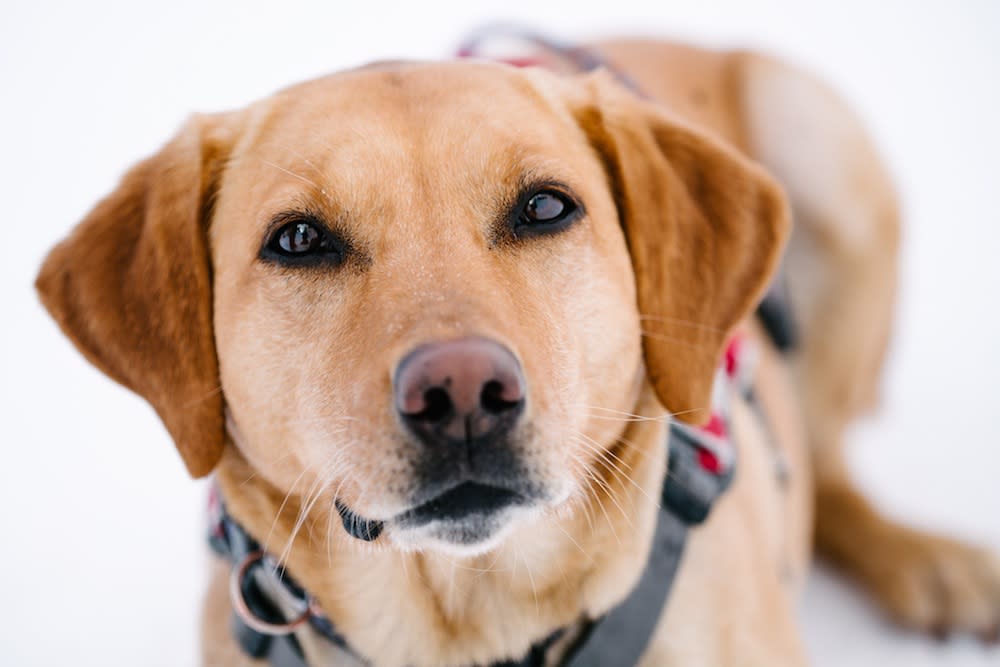 Solitude Mountain Resort currently has two Level A Certified Avalanche Rescue Dogs, including Rio, a yellow labrador retriever (pictured above). Rio's owner is Marvin Summer Solitude ski patrol manager.
Ski patrollers and dog teams from local ski resorts go through rigorous training and testing throughout the season at their respective resorts to be prepared for a Wasatch Backcountry Rescue (WBR) callout. WBR is a non-profit 501(c)(3), incorporated in 1977 to provide life-saving rescue and recovery services to the general public. When a dog team tests to the Level A status, they are available to respond outside of the ski resort and into the backcountry for the local sheriff's agency. Level B dogs are dedicated for work within ski area boundary, and Level C dogs are generally puppies in training.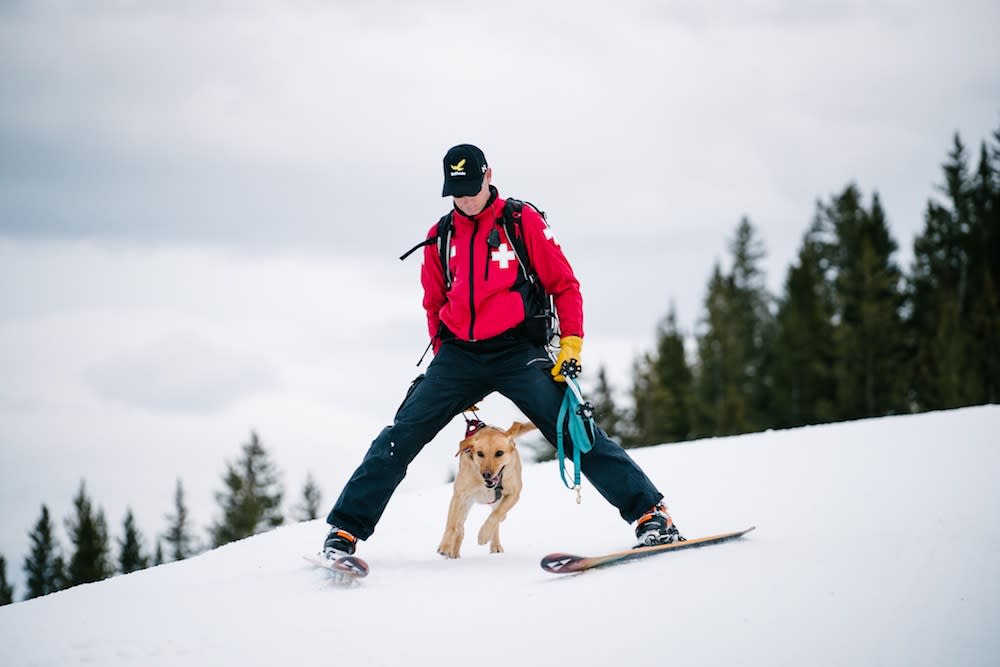 The dogs at Solitude are stationed at two locations on the mountain, including at the top of the Summit and Powder Horn lifts. Solitude Ski Patrol strives to have two Level A certified dogs located at each station each day. The dogs take chairlifts up and lounge in their kennels at the patrol shacks until the call of duty. After the day is done, they eagerly take cat tracks down to the base.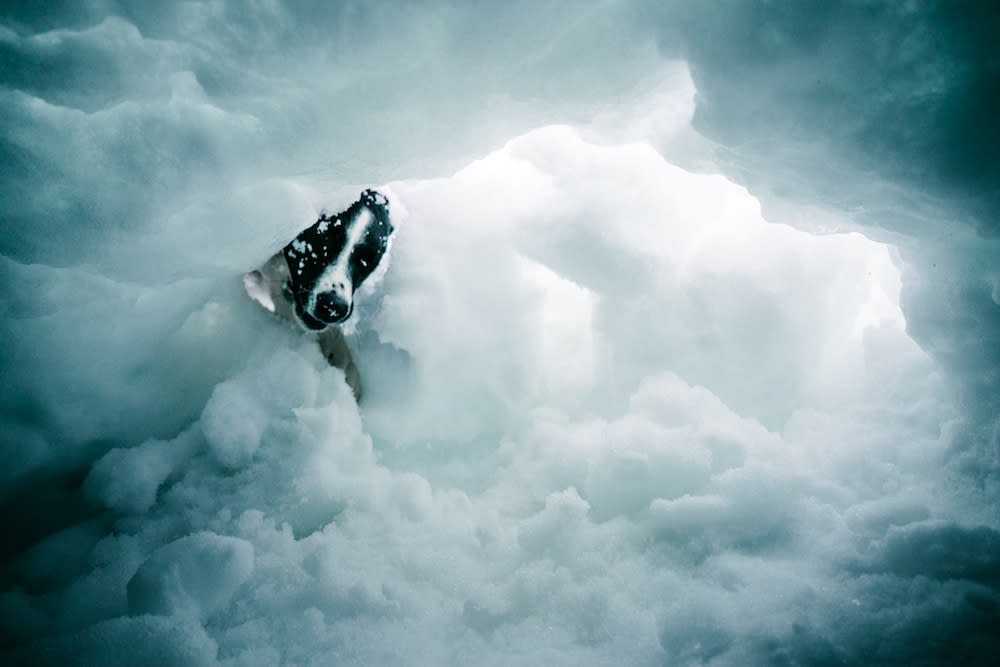 During the avalanche dog demo, ZoZo participates by rescuing a "buried" skier. Like all trained rescue dogs, ZoZo, a Level A certified Labrador Retriever/ Border Collie mix, can detect human scent through layers of snow and can search an area up to eight times as fast as a human rescuer. Keith Sternfels is ZoZo's owner and handler.
If you love Solitude's avalanche rescue dogs as much as us, you can purchase a t-shirt with all four dogs on it. Proceeds benefit the dog's insurance, equipment, and food, as well as ski patrol training.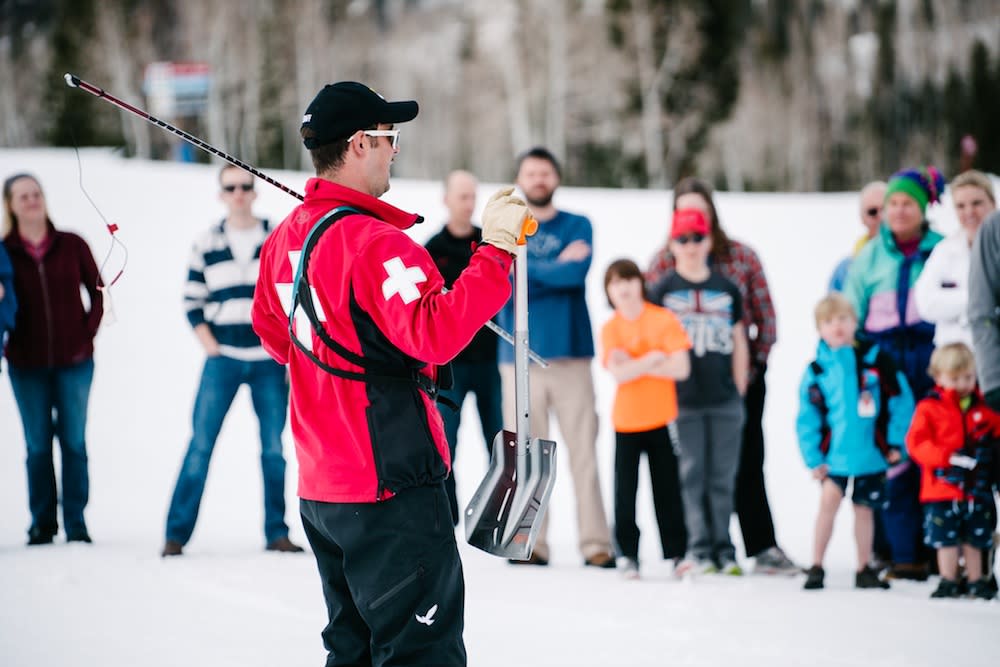 A ski patroller discusses the search tools used to locate someone buried during an avalanche. These include probes, beacons, and shovels. There is no guarantee that there will never be an avalanche at a ski resort, and the best way to avoid them in the backcountry is to gain knowledge with avalanche safety classes, read forecasts and advisories daily, and play it safe while skiing.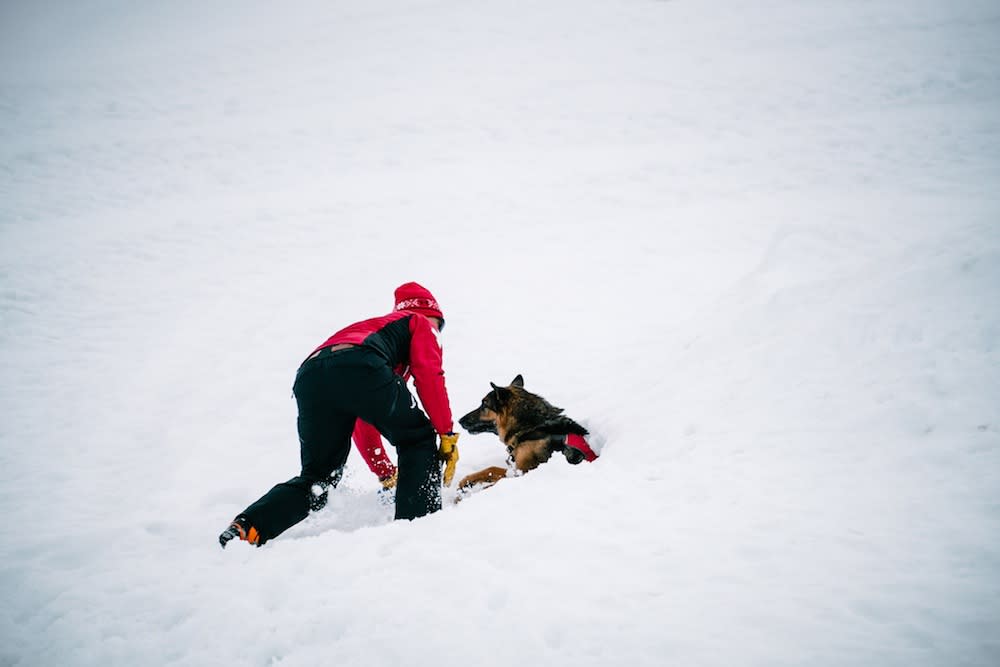 Solitude's senior dog is Bridger, an 11-year-old German Shepherd who is Level B Certified (formerly Level A, and dropping in rank due to old age). Two patrollers were buried in snow caves during the mock avalanche when Bridger was brought on the scene. In less than two minutes, he was able to locate the "victims" and dig a pathway to them. His reward for the good work was a few pieces of delicious bacon.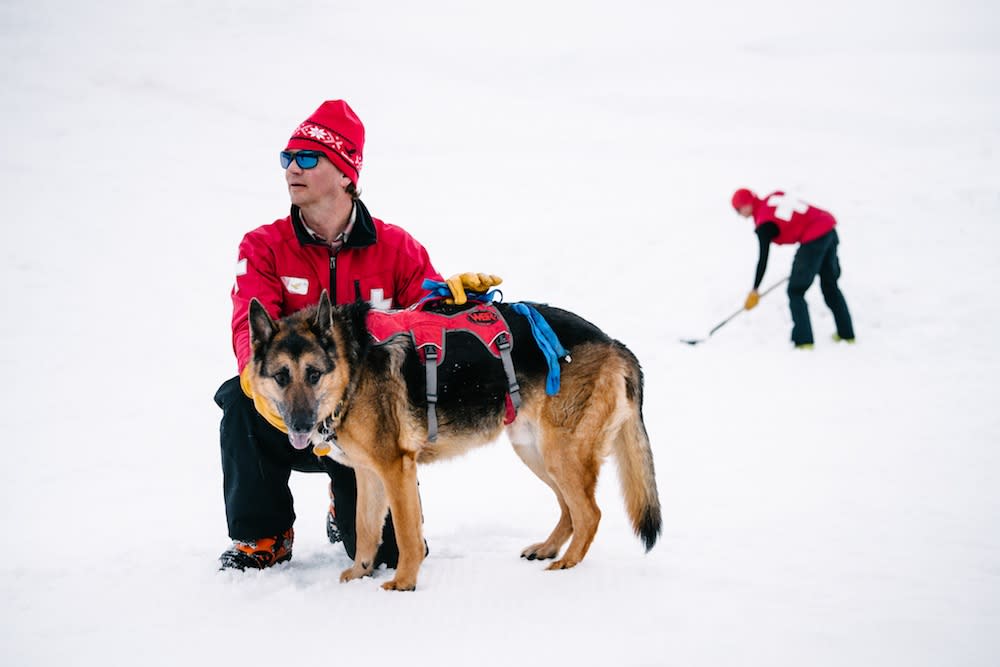 Avalanche rescue dogs like Bridger begin their training as puppies. Patrollers will generally pick up the dogs at around seven to eight weeks old and training begins immediately. Formal search training starts at a few months old. The rigorous training can take up to two years to complete. For the dogs to get their final certification, they must locate two buried volunteers at a different ski resort in an area the size of a football field in less than 30 minutes.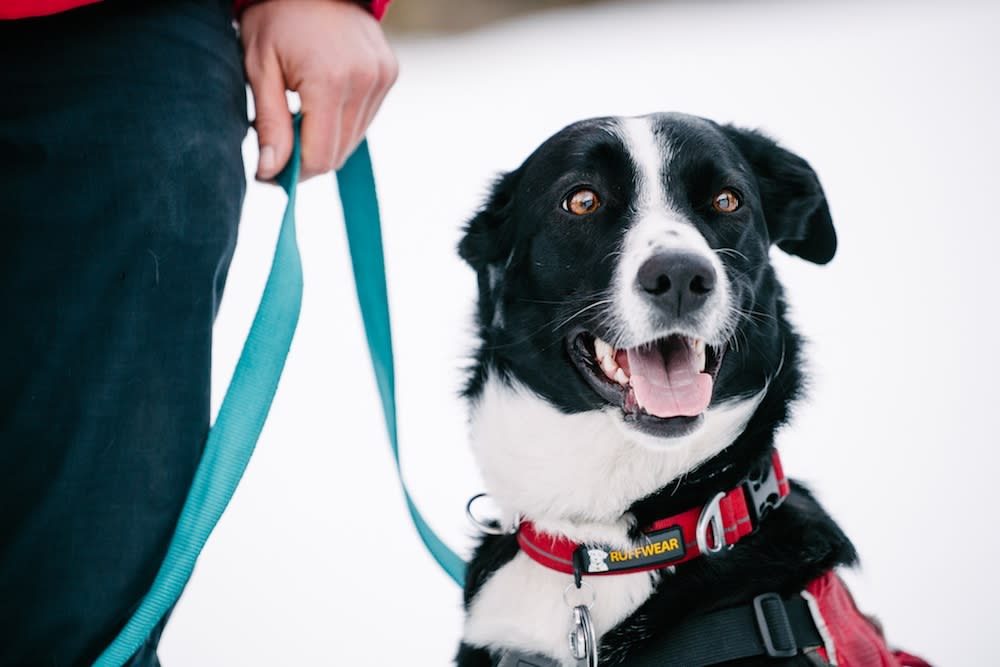 The rescue dogs get incredibly excited during drills. For them, it's a game and they feel like they are being useful. "Everybody loves seeing service and work dogs, but these dogs have no concept of 'work.' We use a positive reward system, so it feels like play time—although they're looking for buried people during emergency scenarios," Sternfels says.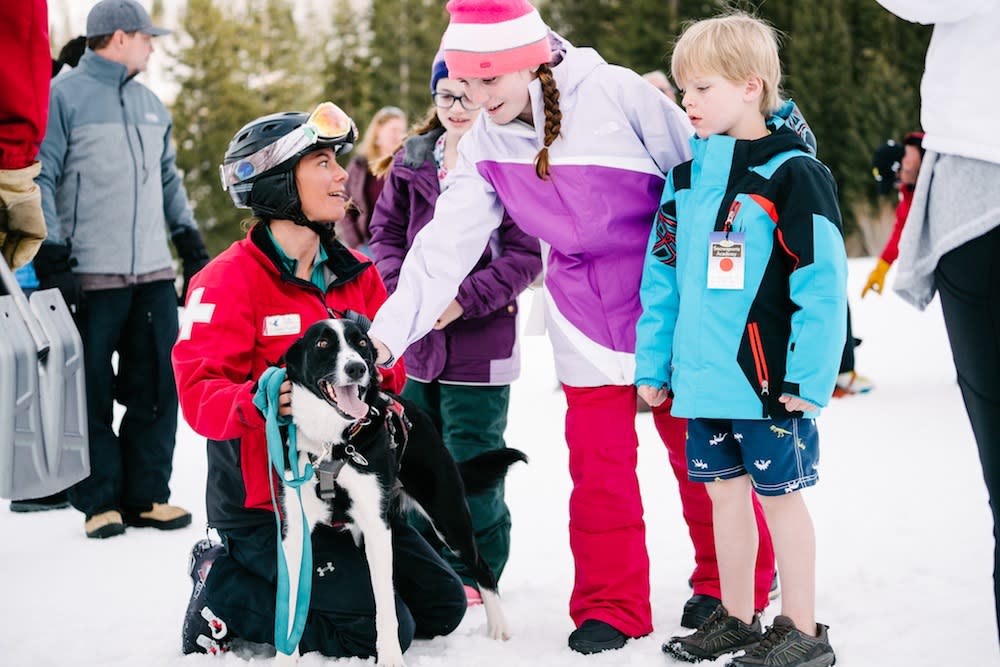 Always ask a patroller if you can pet a rescue dog. Also, ski and snowboard edges can severely hurt the dogs, so steer clear of them on the mountain.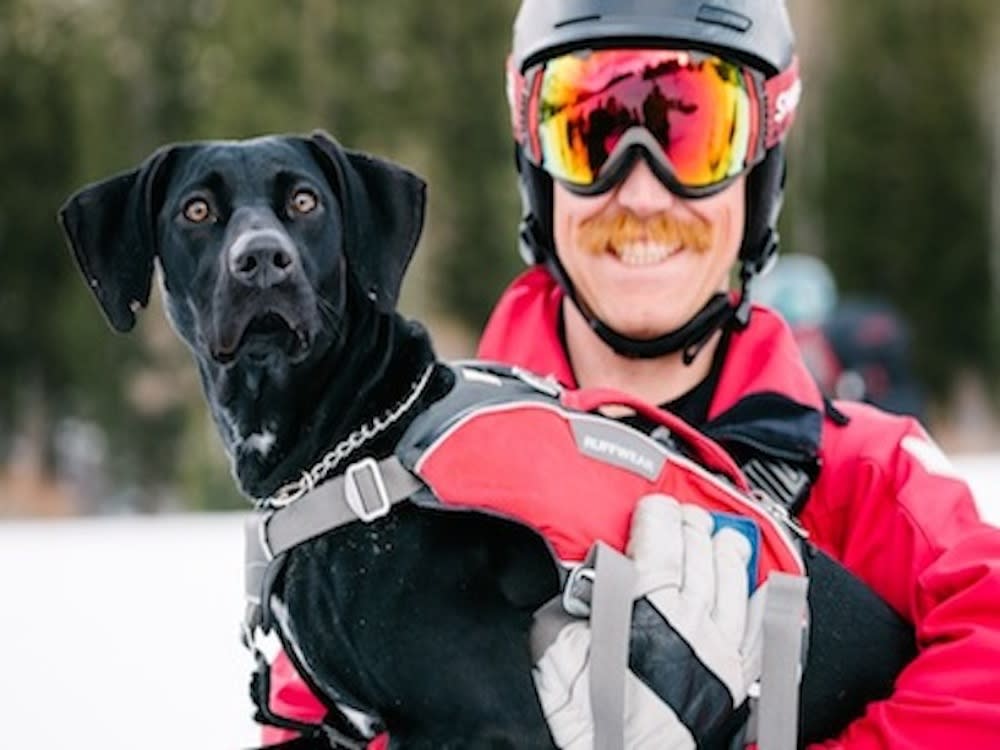 The newest member of the Solitude Avalanche Dog team is Lumen, a Labrador Retriever/German Shorthair mix. Her handler is Trevor John. Lumen was born February 2015. Most working avalanche dogs have a career that lasts from eight to 10 years, or as long as they are healthy.
Avalanche rescue dogs and handlers from all four Salt Lake City resorts, as well as the other resorts around the area participate in the Wasatch Backcountry Rescue program to provide a professional rescue response outside of the ski area boundaries.
For more information about Wasatch Backcountry Rescue, visit www.wbrescue.org. For more information about Solitude Ski Resort, visit www.skisolitude.com.